Digital Creative Internship with Smart NE
Assisting SmartNE in the development of marketing materials and capabilities to raise brand awareness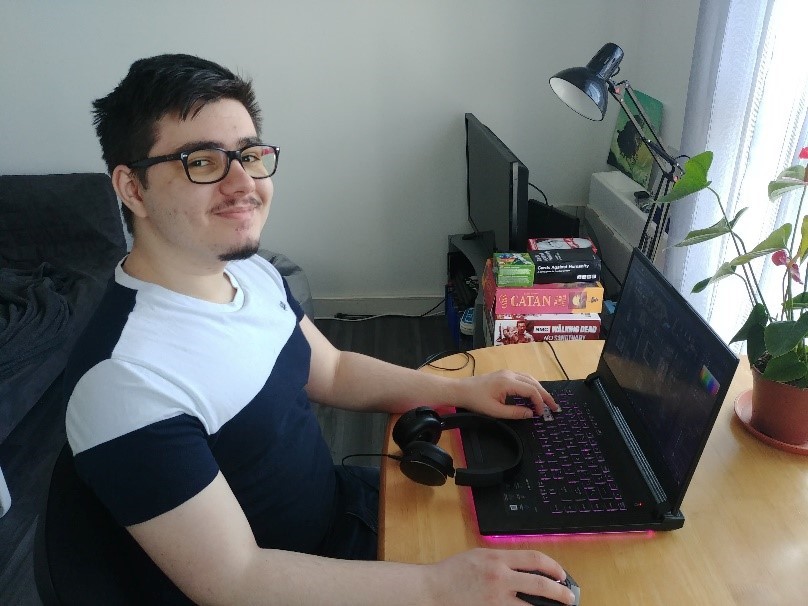 Smart Networked Environments (SmartNE) is an independent limited company,  formed in 2011. They specialise in advanced location based services embedded in beautifully designed interactive maps. Their digital toolsets provide sophisticated turnkey systems for the management of major buildings, sites and events.​
The basis of this project was to assist SmartNE with the development of marketing materials including brochures, on-line content such as social media and map-making graphics.
The EIRA Internship project gave SmartNE an exciting opportunity to work with the University of Suffolk, so that they could further develop their marketing capabilities. For the kind of work that the company delivers it was essential that the student intern had strong IT skills. SmartNE identified the University of Suffolk as having the academic knowledge in Digital Creativity and expertise with students that would provide exactly what they required for this project.
The Challenge
To date, SmartNE has focused on technical development and sales, with relatively small attention being paid to branding and marketing. They identified that this was an  area of development for them to work on.
The business has found that with increasing numbers of competitors entering the market, there is a greater need to continually evaluate and improve their marketing content. The business recognised their marketing challenge was giving time and resources to ensuring web pages are effective and ensuring their social media activity is vibrant and engaging to so that they continue to be competitive.
The Approach
The business digital toolsets provide sophisticated turnkey systems for the management of major buildings, sites and events. Up to now, the main business clients are universities and town centres.    
Smart NE's internship student, Dragos Liche, was  studying for a BA (Hons) in Computer Games Design. Dragos is passionate about digital media and has a specific interest in the development of navigation apps. Smart NE described his expertise as:
"..ideal, as it brought a different but complementary set of design skills to our world of digital mapping. It was great to have a new set of eyes on our design ideas and problem-solving". –Rowena Macaulay, Creative Projects and Inclusive Design
Dragos worked with SmartNE as an intern for 6 months, on a range of projects including icon creation, map content development, user interface design, marketing, exhibition and display materials. The business noted that they benefitted in unexpected ways from the application of Dragos' 3D software skills.
The Outcome
SmartNE have expressed their appreciation for the University of Suffolk's internship programme and EIRA funds to support with the cost of employing an intern. Dragos also benefitted from the internship, as he outlines:
"I've had a great time at SmartNE, and this experience has helped me develop unexpected skills. For instance, I wasn't expecting to be using 3ds Max, which is 3D software, quite as much as I did.

My 3D skills were not ignored, but in fact I was encouraged to use them and managed to get visible results that I can take pride in.  I felt satisfaction when I saw my own work come to life on the WAi2Go software and I am glad to have seen first-hand how digital maps are created and edited.

It has been my first time working in an office environment and it has been quite a different experience working alongside people who did different things, rather than working with peers who were working on the same assignments as me.

I worked longest on an icon design project – the creation of a new suite of environmental, heritage and utilities icons for a community map, which has taught many valuable Photoshop skills, and encouraged me to think about designing for a specific platform, and with a diverse public in mind. Icon design is much harder than I'd previously anticipated, because in my gaming experience, there are very few icons that are linked to a small amount of actions and objects a player could interact with, and they are generally universal in most games.

None of my previous jobs have ever given me so much creative freedom, trust and understanding. Everybody here at SmartNE has always been very kind and helpful, treating me as one of their own and like a valued team member, and although I am a student, they gave me the responsibilities and the credit that a regular, non-junior employee would get. I hope to continue collaborating with Smart Networked Environments in the near future."
This internship match proved successful for both SmartNE to achieve their aims and for Dragos,  who utilised his skills during the process as well as adapted and learned more. The internship also enabled the business to increase their marketing capabilities through raising brand awareness and increasing their audience with prospective clients, which was one of the main objectives for SmartNE.