Graduate start-up business Occumi awarded microfinance grants to expand business reach
Occumi, a start-up founded by University of Kent graduates Joe Shepherd and Josh Clarke, have been awarded EIRA microfinance grants in order to attend industry conferences and increase market reach to gain sales leads.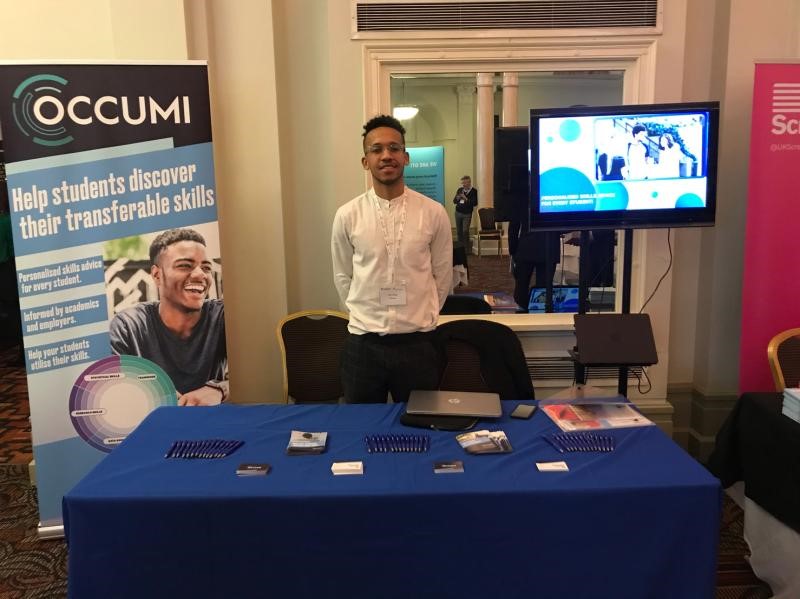 Occumi is a tool that enables students to identify and understand the transferable skills that they have developed from their education and work experience. Occumi uses a unique algorithm based on over 1,200 data points, including the input of over 650 of the UK's top academics, to identify a student's skills from their education and work experience.
The Challenge
Occumi's initial research found that many students are unable to identify what transferable skills they have developed, what options these skills give them, or how to articulate these skills to employers. These are problems that are especially prevalent in those from widening participation backgrounds, or who are first generation university students.
Occumi is helping to level the playing field for all young applicants. By taking away the biases that can help or hinder an individual's chances of being employed, Occumi helps to ensure that a young person is selected based on whether they have the skills required for them to excel in the role.
"Being from a BAME background myself, diversity is a topic that has particular importance to me." – Josh Clarke
Therefore, the main goal is for Occumi to give every student an opportunity to learn about their skills and the value that employers place on these skills, in order to improve their employability.
Their original plan was to use the grant to attend the AGCAS annual conference in order to launch Occumi into the industry. However, once at the annual conference, they were presented with the opportunity to receive a significant discount if they also exhibited at the AGCAS Heads of Service event. Using their EIRA microfinance funds, the team were able to attend this event, increase their brand awareness, gain market insight and generate sales leads.
The Approach
The Occumi team attended two conferences in order to sell university careers services; these were The AGCAS Annual Conference and the AGCAS Heads of Service Event.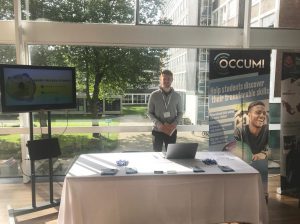 The AGCAS Annual Conference was hosted in Manchester in September 2019 and the EIRA grant allowed Occumi to purchase exhibitor space at the event for the full three days of the conference, including travel and accommodation. EIRA funds also allowed them to buy branded marketing materials including roller banners, leaflets and a promotional video.
The AGCAS Heads of Service Event was hosted in Leeds in January 2020 and the EIRA grant enabled the team to purchase additional marketing materials for promotional use at the event.
The Outcome
There have been multiple positive outcomes for Occumi, these include;
Over both conferences, the team had exposure to over 500 careers professionals and had the opportunity to pitch Occumi to all attendees at both events.
Following attendance at the previous two AGCAS conferences, Occumi are now in a position where they have at least two universities who want to roll out a trial to a section of their student body.
In addition, the AGCAS Heads of Service event in Leeds allowed them to follow up a sales pitch with a senior member of staff at a university they were in discussions with.
One of the key goals for Occumi during this project was collecting feedback. EIRA funds enabled the team to network with their target market and gauge any potential issues that may prevent a university from subscribing. They found that almost all stated that they have strict procurement policies that favour new technologies that have single sign-on compatibility. Single sign-on is where a student can login to a platform with their existing university credentials.
Next Steps
Armed with knowledge gained from the AGCAS events, the team discovered that in order to maximise their chances of success in the industry, they would need to build single sign-on compatibility into the platform to make Occumi easier for institutions to implement. In the latest round of EIRA microfinance, Occumi were once again successful in applying for funds to support this development and are now working on building single sign-on compatibility into their service.