Innovation Internship with Creative Quills
Essex-based content marketing agency, Creative Quills, hosted two EIRA Innovation Internships via the Essex Interns scheme, enabling the company to complete projects quickly and take on bigger clients. The success of the internships even resulted in one of them being taken on full time in the company.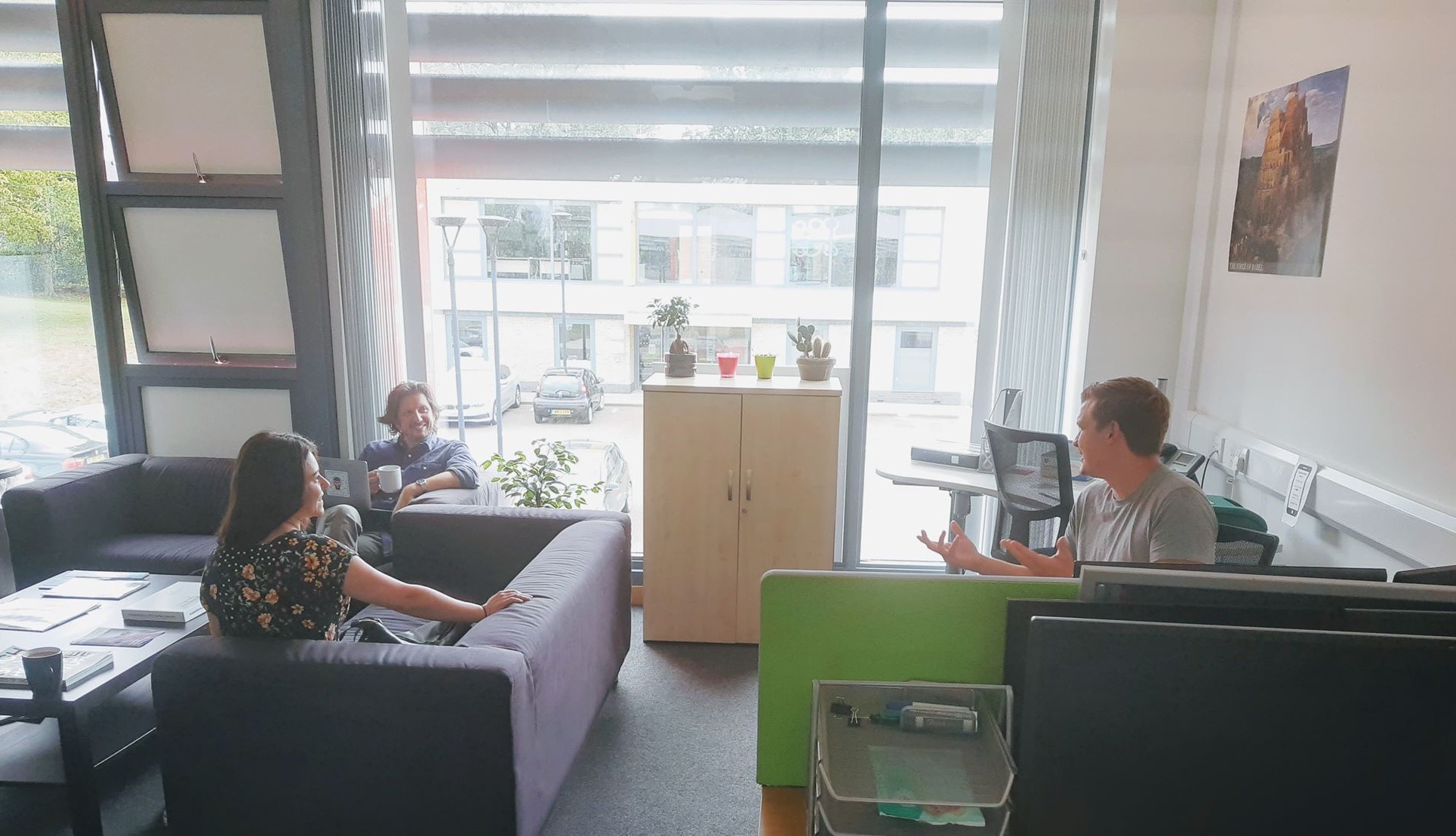 Creative Quills is a well-established B2B content marketing agency based on the University of Essex Knowledge Gateway. The company works with a host of clients, from tech businesses to local councils, creating bespoke written content to meet the unique needs of organisations. More recently, the company has also been delivering content creation training to entrepreneurs and Small and Medium Enterprises (SMEs).
The EIRA Internship scheme has given Creative Quills an opportunity to work with the University of Essex by taking on student interns to help the business grow. To date, they have had two EIRA-funded interns. The interns proved an asset, undertaking written content work, freeing up the company director to build a whole new project pipeline.
The Challenge
Being a successful micro enterprise with just two full-time staff can mean an unmanageable workload at times, and even a need to turn down work projects when the required deadlines don't meet the company resource level. The company needed extra capacity – they had plenty of work, but not enough resource. However, a consistent workload is never guaranteed, so taking on new permanent members of staff can pose a risk – especially amid a pandemic! But with half the Creative Quills staff working flat out on content creation, there was not much time for them to focus on strategy and building a longer-term pipeline of work.
Creative Quills was approached by the Essex Interns team where they found out they could employ an intern for 3 months and receive a grant covering up to 85% of the internship costs. They realised this could be a perfect solution for their business challenge. It would free up time for the director to go out and engage new clients, knowing content creation was in capable hands with his writing team. This was a low-risk solution, as they knew they had several confirmed projects coming up that needed writing resource.
The Approach
Creative Quills hosted two EIRA Innovation Internships through Essex Interns. Both of the interns brought different expertise to the company, which minimised the time Creative Quills had to spend getting them up to speed. They were high-calibre PhDs, with excellent research and writing skills, so they just had to be taught company processes and some marketing fundamentals. Both interns proved to be confident self-starters and were happy to share their own creative ideas. One of the interns, Jessica Houlihan, achieved both her master's degree and PhD within the University of Essex's Literature, Film and Theatre Studies department. She was thrilled to be offered a placement which fitted her skillset perfectly, as Humanities opportunities are much harder to come across than some of the other disciplines.
The interns were recruited to undertake content writing for clients' websites and to create blogs for the company's own marketing collateral. Jessica quickly grasped the processes and was able to hit the ground running, writing allocated projects to a very high standard.
"I had previous internship experience in publishing, but this post was far better suited to the skills developed through my studies, and appealed to the aspects I most enjoyed. The internship offered an interesting learning experience; how to use my skills in a different way within a marketing context. This was the first time I had worked fully remotely (due to Covid-19) and the company gave me great flexibility. I was assigned projects through a remote working tool and loved that I had a lot of autonomy over my work. This made me feel trusted – I was carrying out meaningful, engaging work but with support available when needed." – Jessica Houlihan
This meant that the Company Director, Tom Broome, could spend more time bringing in new projects. Having much more writing resource at her disposal, Dr Marieke Sjerps, the Head of Content, was able to complete projects at a much faster rate, to the same high standards. In addition to this, the other intern, Dr Tom Waters, had a PhD in video and saw a fresh opportunity to put his skills to good use during the internship. He shared his idea with Tom and was given the green light. As a result, he planned and shot footage of the team, including directing interviews. He then used this footage to edit a quality corporate video which can be played in its entirety, or as shorter versions depending on the platform. One unforeseen bonus of him being an Essex student was that he could borrow filming equipment from the department, saving the company money and time hiring it in.
"If you are employing interns then listen to them about their ideas and give them an opportunity to show their capabilities – it has been invaluable for our business." – Tom Broome, Director, Creative Quills
The Outcome
The extra resource afforded by employing the interns meant the company could complete more projects in less time, and as a result increase their bottom line. In addition, with the extra business engagement time that the Company Director had, he was able to secure exciting new contracts for the business. As a result of this new work, Creative Quills has now created 2 full-time, permanent posts and one of these has been filled by Jessica Houlihan, one of the original interns.
"The whole process was simple thanks to the Essex Interns team and the fact that we have taken on multiple is testament to how much we value the EIRA programme and the local talent pool."  – Tom Broome, Director, Creative Quills