Printed polypill eases swallowing difficulties and paves the way for personalised medicine in the future
'Tablet-in-a-syringe': A Novel 3D Printing Solution for Personalised Oral Medicines.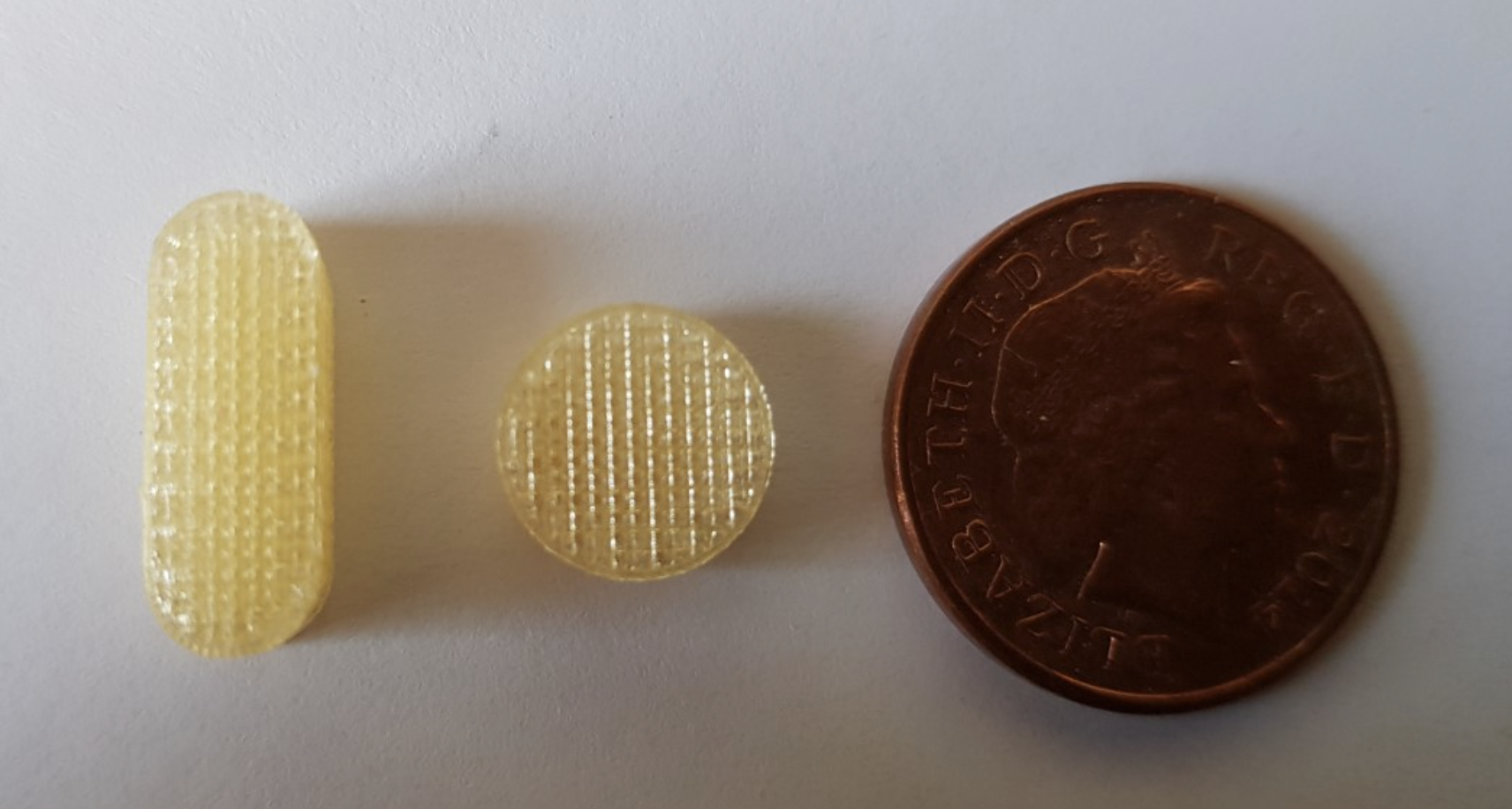 3D printed medicine is a rapidly-growing field of medical manufacturing, with great potential for the personalised medicines of the future. This technology has the capability to incorporate multiple medications into one single dose for easier administration and would revolutionise the way patients are treated. Academics from the University of East Anglia are investigating this proof of concept by developing a novel drug delivery formulation capable of printing a soluble tablet with precise structure and porosity for loading different medications. 
The Challenge 
Dysphagia is the medical term for a patient having difficulty swallowing. This condition increases in prevalence with age but can also exist in patients who have other health conditions affecting the nervous system, such as those who have suffered from head injuries, a stroke, multiple sclerosis, or dementia. 
These patients are often prescribed a large number of medicines as part of their treatment course – often in a solid dose format. The "one size fits all" with current pharmaceutical practices often leads to a lack of adherence from patients due to their swallowing difficulties. This can lead to poorer treatment outcomes for patients as well as creating a high amount of medical wastage with an annual cost to the NHS of £300 million.
The Approach
Dr Sheng Qi is a Reader at the School of Pharmacy of the University of East Anglia (UEA) with over 15 years of formulation and advanced materials research. In the course of her work, Sheng wanted to investigate whether it could be possible to develop a technology that could incorporate all of the medications required for a single patient into one daily pill known as a 'polypill'. 
This unique "tablet in a syringe" device would be a new and effective way of accurately combining multiple medications into one single dose using 3D printing technology in response to those suffering from dysphagia. This medication would then be supplied via an oral syringe that contains a fast-dissolving pre-printed polypill tailored to a patient's specific needs. 
Reformulating drugs in this way could significantly improve patient safety, reduce the numbers of missed medications, with associated savings for the NHS. 
To realise this concept Sheng had to circumvent several technical hurdles. Not least of all was that there were no 3D printers on the market that were suitable for pharmaceutical applications of this kind. To overcome this Sheng aligned her research project with the capabilities of commercial 3D printer manufacturers Arburg and CELLINK.
Through close collaboration with the companies, Sheng was able to develop the novel materials and printing methodologies necessary for the development of the new pill matrix.
The research programme involved three main work packages which included the following:  
Investigation and trial of a range of different printable matrix formulations with built-in chemical and physical mechanisms for the fast-disintegration of the matrix once in contact with water.

A range of polypills was printed with varying drug combinations to demonstrate the capability of dose adjustment into a single medication.
In vitro drug release performance of the printed polypills was analysed and compared to demonstrate their potential effectiveness to the commercial reference products.
The Outcome
Brand-new direct feeding and 3D printing processes were developed through this project which can not only reduce the overall printing time but also improve the chemical stability of the drugs during the manufacturing process in comparison to conventional thermal extrusion-based 3D printing. Medications can now be reproduced with precision from the printing process with the specific doses and drug combinations tailored for patients. The resulting polypills have been lab tested and are ready for the next stage of the development process.
Dr Sheng Qi, said:
"This EIRA PoC project enabled us to work closely with our industrial collaborators and generated exciting data. This formed the foundation of our success for the current EPSRC funded project "Redistributed Manufacturing in Healthcare Network" (RiHN) o bring this development a step closer to the commercialisation of personalised medications for patients."
Next Steps 
The results from this project have led to two major technological advances. 
The first is the development of a superior methodology for the production of polypills using 3D printing. The second is the packaging of the 3D- printed polypill directly into an oral syringe to allow instant conversion of the solid pill into a viscous suspension by the addition of water.
Once approved, these combined technological advances will allow both hospital staff and carers to administer medication(s) directly to patients with swallowing difficulties safely and with minimal preparation. Polypills would also have the added benefit of helping to drastically reduce environmental wastage with packaging. 
Links to Further Reading
Contact for any queries
Dr Karen Smith, RIN, UEA