University of East Anglia and i-Teams
An exciting opportunity for students to apply their graduate skills beyond academia with industry mentors on real life business challenges.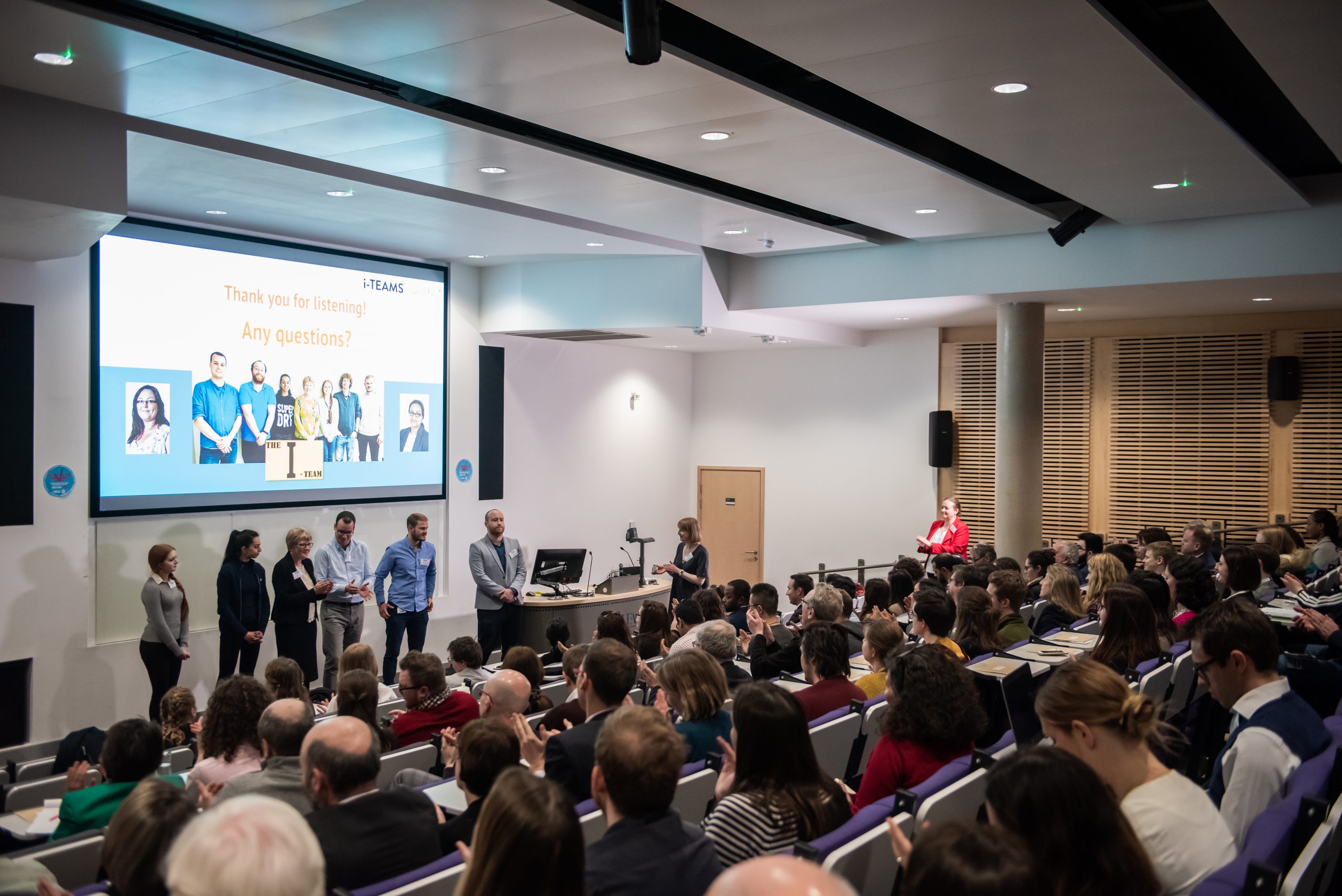 Over the last three years EIRA has funded the annual delivery of an i-Teams event at UEA. The aim of each 12-week programme was for post-graduate students and post-doctoral researchers to develop transferable skills that are vital for employability. Participants worked in multi-disciplinary teams with their business mentors, their academic researchers and the i-Teams Programme Co-ordinators to get practical experience of applying their new-found skills to real life projects. Teams grappled with inventions to assess the commercial viability of new technologies and product designs as well as heritage projects from the local community.
The Challenge
Each programme supported students to identify the key commercial benefits of a technology and its product innovation. Students gained valuable insight into some of the challenges of the business world and developed their commercial awareness. These ranged from their ability to analyse relevant competitors and potential collaborators, investigate and contact relevant industry experts, extract useful information from commercial contacts, and analyse incomplete data from a variety of sources to draw a justifiable conclusion. The aim of the i-Teams programme was to enable:
Students to work on a real project where their ideas and conclusions can influence future directions and outcomes
Develop their skills in teamwork & team management, consultancy and ideas generation
Improve their presentation skills for a non-expert audience.
The Approach 
i-Teams at UEA usually consists of five teams, two focused on heritage projects and three on scientific and technology projects. Each team comprises up to seven members (PGRs and postdocs). Students are recruited through information sessions, advertising throughout the Norwich Research Park (NRP) and through the careers service. UEA also offers places to Norwich University of the Arts (NUA) students, especially for the heritage teams. In 2020 UEA had five students from NUA participate in i-Teams which created a link with NUA providing a new opportunity for their postgraduate students.
Once suitable projects have been agreed upon, UEA recruits mentors with a relevant background for each project, matching their skills and experience with the projects. Each multi-disciplinary team comprises of students from UEA, the NRP institutions and NUA leading to creativity and innovative thinking.
Due to the Covid-19 outbreak, i-Teams 2020 moved to remote sessions part way through the programme. Students, mentors, co-ordinators and inventors, as well as the project leads, learnt how to transition to online working once the order to stay at home was announced. The team quickly moved all training and sessions to Blackboard Collaborate and were able to complete the programme successfully and safely.
The continuing Covid-19 pandemic meant that the 2021 i-Teams was held completely online with training sessions and the final pitches delivered via video conference.
The Outcome
i-Teams aims to provide students with an opportunity to experience the challenges of working within a business environment and to equip the with the skills to do so. The programme also aims to assist project owners by providing them with information, insights and the impetus to move their project forward.
Students
For the students, the aim to increase their skills and personal development is evidenced in the outcomes of the post project survey:
93% of the respondents said their problem-solving skills had improved
79% of respondents said their connection with industry had improved
71% of respondents said their level of market research and analysis had improved
64% of respondents said their level of presentation skills had increased
Comments from students included:
"I actually started a company after being involved in i-Teams so it has completely spun my life around and given me a different outlook. I never thought I would have a company."

"It's [i-Teams] shown me the importance of linking business with research, and how this is a pathway which can follow on from a degree."
Business Owners
The i-Teams programme aims to provide owners with additional information about their product or service, so that they can make more informed decisions about next steps. As well as the public presentation, each team hands over a project report to the owners, with more detailed information about contacts, ideas and feedback on their project.
Business Owners comments:
"Thank you so much for your hard work in such strange circumstances! The report is excellent and has so much information for us to work with."

"Walking the journey of market discovery with the iTeams team was an incredibly rewarding experience. It brought to the project new perspectives that opened new possibilities that we had not previously envisaged."
Key Statistics from previous years
 UEA i-Teams has been running since 2015
150+ students participated
22 company mentors participated
22 projects completed
£1m of translational funding
1 device trialled in the NHS
1 app launched
1 student start-up
Looking back at how EIRA has supported UEA's i-Teams programme over the last three years, it is clear that this initiative has provided a demonstrably positive experience for all parties involved.
In 2019, UEA's i-Teams programme was divided into two focus areas: Technology and Heritage. The projects involved in that year were:
Watch the full short film here, or visit this link to watch full screen:
The teams created as part of 2020's i-Teams programme were:
Microplastic Detection – a project from the School of Chemistry at UEA
Nematodes – detecting nematodes with an experimental pipeline – a project from the Earlham Institute and School of Biological Sciences
Gamification of the Workforce – increasing employee engagement and motivation – a project from the Norwich Business School
Animating the Archive – bringing the creative writing process to the public – a project from the British Archive for Contemporary Writing at UEA
Digital Ted – attracting new people to wildlife through the journals of Ted Ellis – a project from the Broads Authority
The teams created as part of 2021's i-Teams programme were:
Seaweed: using seaweed as a feedstock for chemical extraction processes. – a project from the School of Biological Sciences
PulseOn: a novel food ingredient for the sports nutrition and nutraceutical markets – a project from Quadram Institute
Theatre Archive: bringing the Norwich Theatre Royal archive to life – a project from Norwich Theatre
Bressingham Gardens: attracting a greater audience to the gardens, both in person and virtually – a project led by the Bloom family
The i-Teams programme is not only a great thing to be involved in as it is enjoyable & means postgraduates make friends with people they would not otherwise have met, but has provided a range of skills to participants, including teamworking, project planning and presentation skills. The programme has also given insight to project inventors and owners about market opportunities, funding options, SEO & the use of social media.
Next Steps
Any UEA, NRP or NUA students wishing to register their interest in future i-Teams events can do so via the UEA i-Teams webpage. Keep up to date with further news by following the UEA i-Teams' Twitter account @UEAiTeams