Commercialisation training opportunity for early career researchers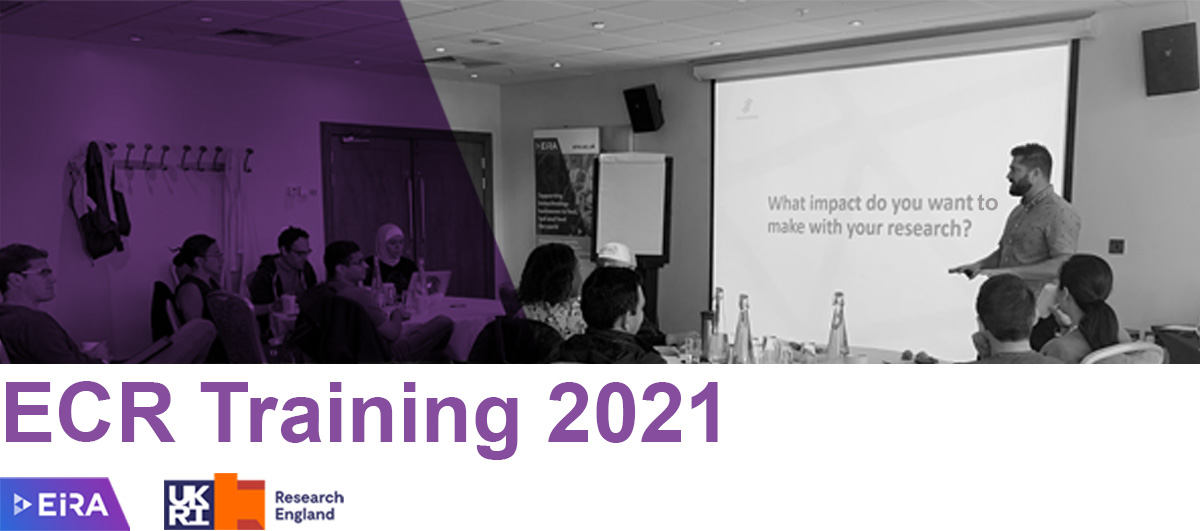 EIRA will be hosting a free virtual 5-week programme for early career researchers from partner institutions that will develop skills in:
Commercialisation
Collaboration
Communication
This course has been developed in partnership with Skillfluence, an external provider of training for researchers and scientists. Beginning Thurs 20th May, the course will be delivered by a variety of expert speakers including Slingsby Partners LLP, the KTN and our own academic and professional services staff.
Here is an overview of the course:
Week 1: Understanding Commercialisation
Week 2: Knowing Your Value 
Week 3: Communicating with Industry
Week 4: Building Connections
Week 5: Collaborating and Implementing
Thurs 20th May, 9:30 – 12:30pm: From research idea to market + Problems and solutions – define your idea with Eleanor Saunders and Alina Congreve
Tues 25th May, 9:30 – 11am: Intro to Intellectual Property with Slingsby Partners LLP
Tues 1st June, 9:30 – 11am: Communicate with Impact with Alina Congreve
Tues 8th June, 9:30 – 11am: Social media for researchers with Lisa Gibbs
Tues 15th June, 9:30 – 11am: Collaboration Opportunities – tbc
Thurs 27th May, 9:30 – 11am: Your value proposition for industry with Eleanor Saunders
Thurs 3rd June, 9:30 – 11am: Develop your elevator pitch with Rob Walker
Thurs 10th June, 9:30 – 11am: Expand your network using LinkedIn with Dr Hannah Roberts
Thurs 17th June, 9:30 – 11am: Making it real and next steps with Charlotte Thompson from KTN
The training course will provide early career researchers the chance to meet and collaborate with academic colleagues from across the EIRA network to accelerate their own continuing professional development. Covering a variety of topics, this unique opportunity will help early career researchers to build upon their commercialisation and business engagement skills, as well as taking part in multi-institutional collaboration and discussion.
Attendees will also have the option to have a personal 1-2-1 coaching session through Skillfluence. Coaching provides the means for integrating new concepts, tools and techniques learned in training by giving the support and time to understand how to apply them to real situations. The supportive nature of a coaching relationship can provide the environment for early career researchers to stretch and grow, particularly in new roles.
Finally, the training offers a way for academics from across the EIRA network to meet, network and socialise with each other – a vital element in encouraging collaboration between different institutions. Although we'd encourage participants to attend all sessions, we understand that sometimes this isn't possible with teaching and other commitments. Therefore, wherever possible we will record sessions to watch back later (with the exception of breakout discussions), and we'd encourage people to apply if they can attend as much of the course as possible.
Interested in applying? Download and complete the application form and send back to [email protected] The deadline for applications is Friday 14th May 2021.