Digital Wellbeing Programme for Workers Launched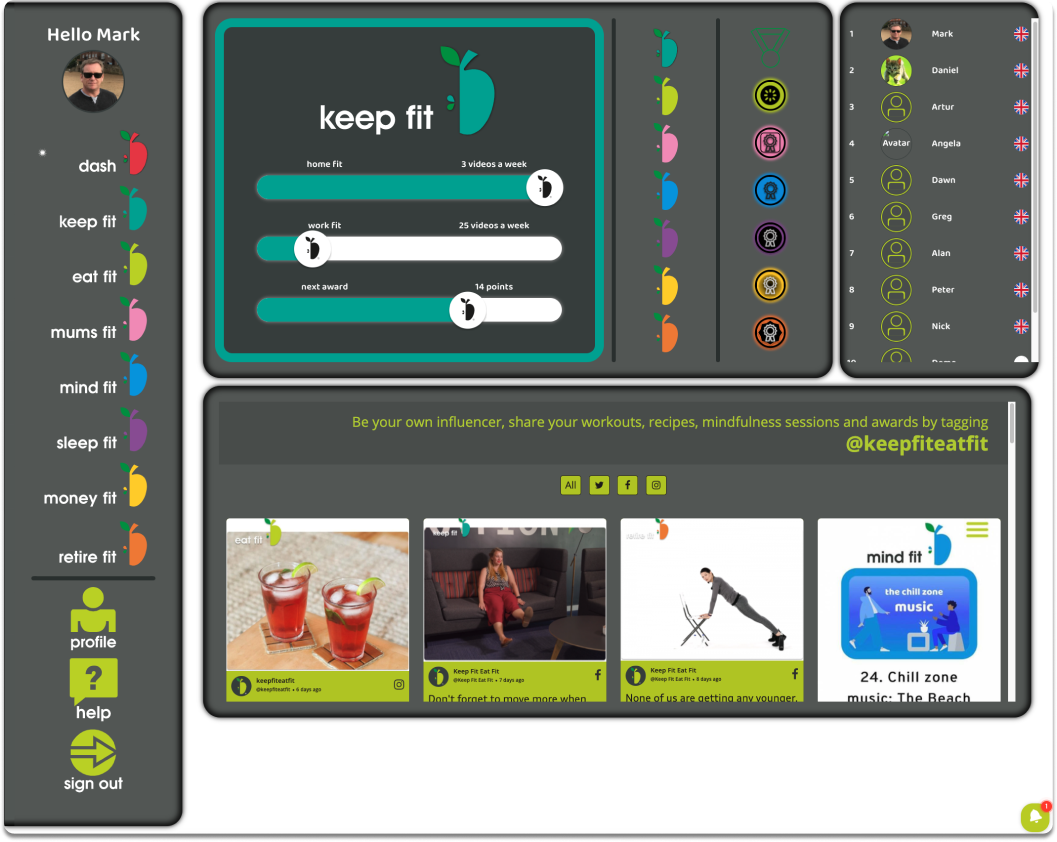 EIRA has funded a project between the University of Essex and Keep Fit Eat Fit Wellbeing Ltd through the Innovation Voucher scheme, which has enabled the company to launch it's digital wellbeing programme for workers. Keep Fit Eat Fit is a new company based at the University of Essex's Innovation Centre. Academics from both the University's School of Sports, Rehabilitation and Exercise Sciences and Department of Psychology provided their expertise in the areas of  sleep science, nutrition and the effects of sedentary working on the mind and body.
Keep Fit Eat Fit approached EIRA as they wanted professional experts to create content for some of the programme modules; ensuring that information on their platform is current and backed by the latest academic research. This led to introductions to senior lecturers, Dr Valerie Gladwell and Dr. Nicholas Cooper, and to PHD students Dr Achilleas Pavlou and Dr Dawn Holford. In addition to this, other students were commissioned to carry out voiceover work.
Academic knowledge was exchanged over a period of 3 months, giving access to reports, papers, creating useful blog content and filming the academic experts talking about their specialist areas and how this innovative new platform can really impact on employee wellbeing.
The company will continue to work with Dr Valerie Gladwell and colleagues from the School of Sport's Rehabilitation and Exercise Sciences in the new year to run a 3-month research programme, testing the efficacy of the office-based Keep Fit Eat Fit exercise content and measuring the effect of sedentary office behaviour on health and wellbeing.
"As a practising academic focused on how to break up sedentary work time, I am very happy to be working with Keep Fit Eat Fit on this topic.  Whether working from home or in the office, keeping active is essential for workplace health and wellbeing."  – Dr Valerie Gladwell, University of Essex
keepfiteatfit.com is a business-facing website which offers a complete digital wellbeing programme for employers to provide to their employees and is purchased via a monthly membership subscription.
The highly engaging content addresses all of the major workplace physical, mental and financial wellbeing challenges, and delivers this via scrolling video channels, audiobooks and blogs within a gamified end user membership portal. It is a self-help tool for use throughout the whole day – wherever the user is located. For remote teams, it is an ideal and effective way of increasing employee engagement.
"Working with EIRA on the Innovation Voucher has been a great experience and we have received tailored support for our project which has helped us to create a well-rounded product with invaluable contributions from academics within the University of Essex.  As our product is a wellbeing offering, the validation, endorsement and input we now have from the academics differentiates us from anything else on the market, which was the aim when we embarked on the project". – Angela Knox, Keep Fit Eat Fit Wellbeing.
EIRA are delighted to be supporting the launch of Keep Fit Eat Fit's platform and will be updating on the progress of the research project in a few months. More information about the platform can be viewed here. 
Do you have an idea for a project or service that could help your business innovate and grow? Get in touch with us for more information about how we can support your business.