How EIRA have worked with NUA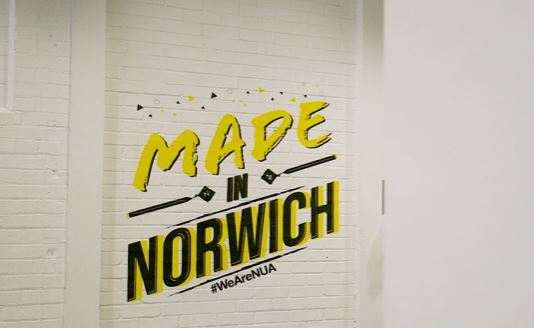 Norwich University of the Arts (NUA) is one of EIRA's seven higher education institution partners. Having established itself in arts, design and media education for over 170 years, it's history can be traced back to 1845.
Based in a city centre campus that boasts cutting-edge facilities, their approach to teaching was also recognised in 2018, when they were awarded Gold under the Teaching Excellence Framework and ranked 10th in the UK for teaching quality by The Times and The Sunday Times Good University Guide.
NUA has thrived as an established University, developing a national reputation as an innovative and creative academic community, with a firm commitment to offering vocational, practice based courses that afford students space to develop their skills and pursue their passion.
As part of the EIRA Network, NUA have been supported to facilitate funded internships and entrepreneurial opportunities for the benefit of their students and recent graduates. They have also worked on a number of EIRA Innovation Voucher projects, including with Sutherlands of Portsoy.
Based in the small fishing village of Portsoy in the North-East of Scotland, Sutherlands produce award-winning smoked salmon for customers around the world and have strong links to Norfolk. Established in 1908, the business sought design expertise from NUA to reinvigorate their brand, whilst retaining their important heritage as a family business.
Watch the video below or here to hear from Will Taitt, Business Innovation Manager at NUA, and John Farley from Sutherlands of Portsoy to learn more about their project, and how EIRA have enabled business – university collaborations for NUA.